Je kunt je dataverbruik beperken door mobiele data uit te schakelen, zodat er geen verbinding met internet kan gemaakt worden via het mobiele netwerk. Je kunt nog steeds wifi gebruiken, ook al is mobiele data uitgeschakeld.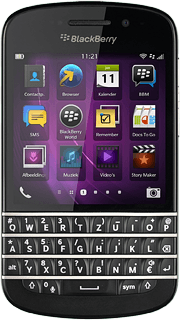 Ga naar "Mobiel netwerk"
Veeg met je vinger naar omlaag vanaf de bovenkant van het scherm.
Druk op
Instellingen
.
Druk op
Netwerkverbindingen
.
Mobiele data in- of uitschakelen
Druk op
de indicator naast "Dataservices"
om de functie in of uit te schakelen.
Terugkeren naar het startscherm
Veeg met je vinger naar omhoog vanaf de onderkant van het scherm om af te sluiten en terug te keren naar het startscherm.